Student
As a student, we understand that you may be new to the world of travel insurance! So when it comes to buying your policy the most important things to consider are the trip you are taking and whether the cover on offer suits your specific needs.
Educating students on travel insurance is important to us here at TopDog – hence why we've come up with this step by step guide to choosing the correct policy for you.
Whether you're off on a short summer trip with friends to celebrate the end of your exams, a year work placement in China teaching English or are taking part in a heart-warming volunteer programme in a developing country, TopDog Travel Insurance could be the perfect choice for you.
Student Guide To Choosing The Correct Travel Insurance Cover
You've worked your socks off all term, and now it's time for you to let your hair down and relax! Whether you're flying off on a six-week adventure to Thailand or Australia, spreading your wings on a world tour, or taking a gap year to give you time to think about your future, the one aspect you mustn't forget to pack is travel insurance.
Student Travel Insurance Should Cover You For The Following:
Should you be involved in an accident or if you were to fall ill on your travels, your travel insurance policy should cover your emergency medical costs, except for the excess. The policy should also help you to return home if you are too unwell to continue with your travels – 'repatriation' in policy terminology.
Lost or stolen valuables, such as your cash and passport. If you fall victim to theft or accidental loss, your travel insurance should help with replacement costs or reimburse you for what was lost.
If your flight is delayed and in return, you miss your connecting flight, your insurance should provide cover for the costs of rebooking a flight.
If your holiday has to be unexpectedly cancelled or cut short for a particular reason, you should, depending on the level of cover provided, be able to claim the cost of the holiday back.
With These In Mind, Check Out The Benefits Of TopDog's Travel Insurance Policies: 
24/7 emergency helpline. Travel with peace of mind that you will always have support back in the UK to fall back on if needed.
Pre-existing medical condition screening. This is crucial as should you need to make a claim which is related to an existing condition then it must have been declared at the time of purchase for cover to be valid.
Cover for up to £10 million* in medical treatment depending on the policy level you decide is most suited to you.
Over 100 sports and activities covered, allowing you to make the most of your time abroad.
With four levels of cover to choose from you can pick the policy that best suits your needs.
Cancellation cover up to £7,500 available.
TopDog covers all countries as long as the FCDO (Foreign, Commonwealth & Development Office) doesn't advise against travelling there.
Don't just choose the cheapest cover! We advise you to look at the policy in detail and be clear about what is and isn't covered including the level of excess you will be expected to pay if you need to make a claim.
Listing out everything you need to be covered is a good starting point. How many valuables are you taking with you and what are they worth?  How much did your holiday cost? Does the policy offer a 24/7 emergency helpline? Does it cover travel delays? These are basic things that can lead you to be clear about the cover you really require and if the policy provides adequate cover or not.
What To Keep In Mind? 
If you are solely travelling to Europe from 1st January 2021 rules around travel to Europe have changed, visit the Government website for up to date information on passports, EHIC, healthcare and more. We'll update this page with more information as and when the Government release it.
You must inform your insurer of any pre-existing medical conditions when you're buying your cover. That way if you do fall ill, and it's related to your medical condition, you'll be covered. When you source a quote from TopDog we'll ask you a few simple questions that will help you to be clear whether you need to declare your condition or not.
Remember you will not be covered for any accident that is related to the consumption of drugs or excess alcohol. We're not saying that you can't enjoy the full moon parties in Thailand! We just warn you to be aware of your surroundings and safety at all times.
Excesses – if you make a claim an excess may be applied to the amount you receive. With TopDog the level of excess that applies in each section is clearly shown on our cover level tables or in our policy wording. Many insurers offer cheap policies but you will find their excesses may be high as a result. Don't get caught out.
Travel insurance acts as one big security blanket. It is there for your safety and to help you out when you need it the most. While you might feel you'd rather save the money your policy will cost to spend while you're away instead, think about how you would cope being presented with a medical bill running into hundreds if not thousands of pounds!
Travel Safety For Students 
One of TopDog's highest priorities is giving customers the confidence to feel safe in the knowledge that they're covered with a top-notch policy whilst travelling to their dream destinations. But there are lots of things that you can do that will help you to feel protected whilst travelling too.
To follow are some top travel tips, giving you the know-how to safely explore all that this amazing planet of ours has to offer:
Keep an eye on your personal belongings at all times, and do not show off valuables. We would also suggest carrying a small amount of cash in a money belt under your clothes to prevent you from falling victim to pickpockets.
Ensure you take out travel insurance!
Carry a copy of your passport and entry stamp/visa, leaving your actual passport and paperwork in a safe at your accommodation. On that point always use a safe at your accommodation if one is available. Also as a back-up, you should leave a photocopy of your passport details page at home so should it be lost you can easily source the information you need.
Only deal with authorised agents when exchanging your money for an excursion, transport or even booking accommodation. It is probably best to create a document of all the agents you will be using as well as their contact details so you can easily locate their details to get in contact.
Have your accommodation booked for at least the first night of your stay. Sometimes students like to do this as they might meet friends on their trip who they want to stay with for the rest of their stay.
Avoid any troubled areas of cities or the country in general! Again, it is best to check the FCDO website before booking.
Be careful when indulging in the local cuisines. The prospect of trying new and interesting foods can be exciting. But before eating that beetle on a stick make sure it is fully cooked and served hot! Always check if it's safe to drink the tap water. It is also important to only eat fruit you can peel yourself and only drink bottled beverages, leaving out the ice.
Always choose a safe mode of transport and wear a seatbelt! We don't want to be boring and sound like your parents but when travelling it can be easy to forget about the simple things and get sucked into the way of life and culture of your destination. Following on we would advise not to travel in any overcrowded vehicles that are overweight and top-heavy.
Lastly, if you begin to feel unwell or get injured, it is recommended to seek health care immediately. If you're unsure call the emergency medical helpline that comes as part of your TopDog policy for guidance and support.
Why Choose TopDog Insurance?
24/7 Emergency Helpline
100+Activities Covered FREE
Up to
£10m Medical Cover Per Person
Up to
£7,500 Cancellation Cover Per Person
TopDog Student Travel Destination Recommendations 
If you are not sure what to expect, or simply want some insight into what travelling as a student is like, your best bet is to chat with somebody who has spent an extended time abroad travelling, studying or working.
Whilst everyone's experience is going to vary, it can be really reassuring to talk to those who have experienced it all before and hopefully will have a few tips and tricks in their bag to pass on.
Below TopDog provides you with some recommendations on ideal destinations for students to visit:
Stockholm is a city with a long and compelling history, and although being the largest city in Scandinavia it preserves a tranquil atmosphere with admirable Swedish architecture. The Swedish have nicknamed the city 'beauty on water' – with the Royal Palace, unique buildings and cobblestone streets all still in impeccable condition, and not to forget Stockholm's sense of impeccable style. And given the array of prime ingredients drawn from Stockholm's neighbouring waters, fields and forests, it's no surprise food is a sincere passion of theirs.
*Fun Fact – The city's subway is also known as the world's longest art gallery, with the majority of its stations being embellished with paintings, sculptures, and mosaics.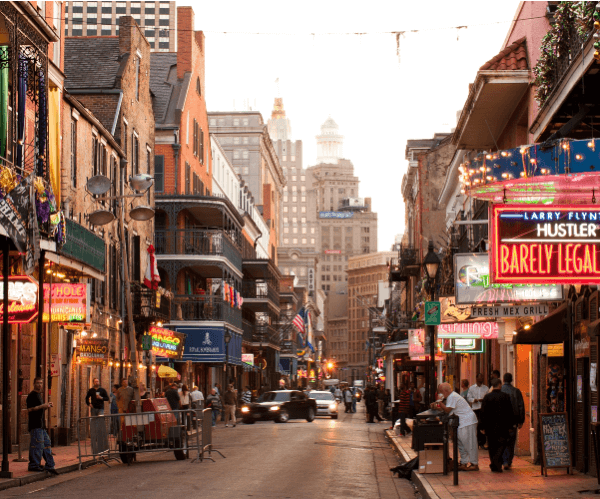 With colourful nightlife, a bursting festival calendar and decadent local cuisine, New Orleans should definitely be on the list for must-see cities. And if you are into paranormal happenings, then the French Quarter will be right up your street. Being the cities oldest neighbourhood, spend a night walking around on one of its many ghost tours. And nowhere else is there a greater selection or wider diversity of special events. You'll be sure to find at least some kind of festival running each weekend.
*Fun Fact – New Orleans is the birthplace of jazz, along with two other music genres related to it – rock and roll and blues.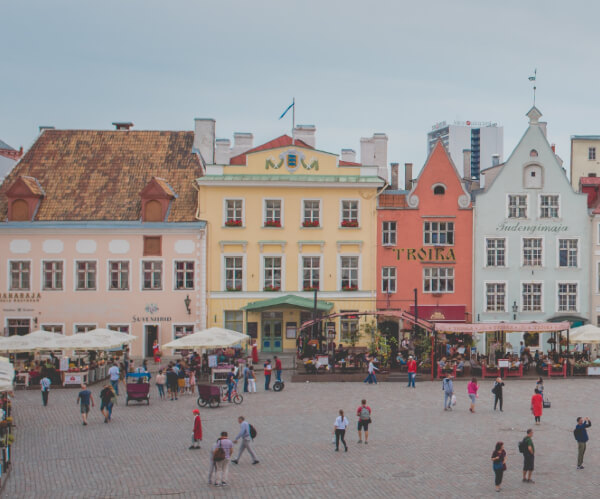 Despite being a bit under the radar as a travel destination, Tallinn actually attracts over 115,000 British tourists each year. With the fairy-tale charms of its UNESCO–listed old town – with the fun fact that it is one of Europe's complete walled cities. This makes Tallinn a top destination to visit on your own or with friends. Stay in excellent value accommodation, eat delicious food for a budget-friendly charge and take in all the wonderful sights of this charming city, with Baltic sea views and a panorama of the city from the flat roof of the vast Linnahall (city hall).

*Fun Fact – Under the old town is a Labyrinth of 17th-century tunnels. And during WW1 these were used as bomb shelters, but they were not widely known about until 2010 when 380 of the passageways were opened to the public.