Single Trip
Are you visiting the picturesque city of Barcelona for a long weekend getaway? Planning your festival outfits for a week in Croatia at the Hideout Festival? Or preparing for a relaxing break on the remarkable island of Kos? Whether you are a typical tourist, party animal or beach lover, we all have one thing in common when we're heading overseas and that is the need for travel insurance. And TopDog's Single Trip policy is the perfect option for those one-off holidays throughout the year.
Our Single Trip travel insurance acts as your safety blanket when you're away from the comforts of home; covering you for all those unexpected and annoying situations no one wants to be dealing with on holiday, including medical emergencies, lost baggage, and cancellations.
Your Single Trip travel insurance can cover you, you and your partner or an entire group if you are away with friends or family. Booking your insurance together saves you time and gets the job done so you can get on with planning what to pack, what places to visit and which eateries and bars should not be missed.
TopDog's Single Trip holiday insurance also includes cover for 100+ sports and activities for FREE enabling you to make the most of what's on offer in resort, even to have a go at something new, and provide real peace of mind.
When To Take Out Single Trip Travel Insurance
It is a good idea to take your single trip insurance out as soon as your holiday is booked so you don't forget about it!
Our policy will protect you from the day you take us until the day you land back in the UK after returning from your trip.
Key Benefits Of Our Single Trip Travel Insurance
Coronavirus cover included on our Diamond and Staycation policies
Exclusive discount on at-home COVID tests for before you travel
Brexit cover available on Diamond policies
Covers you, a couple, or a group in the UK, Europe and Worldwide (unless there is a Foreign, Commonwealth & Development Office Advisory on a destination)
You are covered for a one-off trip from 1 day up to 50 days.
Covers you from the day you take out the cover and for the duration of your trip until you land back in the UK.
Cover includes lost luggage, medical emergencies, cancellations, lost money, sports and activities cover.
Emergency medical cover from £2.5 million. Ensure to let us know of any pre-existing medical conditions so we can make sure you are covered.
Flexible price – choose the level of cover you need. For example, our most popular gold package includes cover for delays and our platinum includes that AND a £3000 baggage allowance.
What Our Existing Travellers Have Used This Policy For
Romantic Couple Retreats
Annual Summer Holiday
Group Ski Trip
Last Minute Breaks
Weekend City Break
Festival abroad
Frequently Asked Questions
Travel Suggestions For A Single Trip
The island of Sicily will astonish you with its lavish mixed heritage and wide range of influences detected in the island's architecture, landscape and culture.
Witness first hand Europe's highest and most active volcano; Mount Etna and explore the intriguing valley of the temples in Agrigento. Or maybe you fancy visiting the fashionable resort of Taormina to witness the implausible views of the Ionian waters from the Greek Amphitheatre.
Indulge in calories galore with Sicily's famous pastries and desserts filled to the brim with rich ricotta and mascarpone. And with the glorious heat in the summer months roasting you, ice-cream and granita are a must-have specialty to keep you hydrated.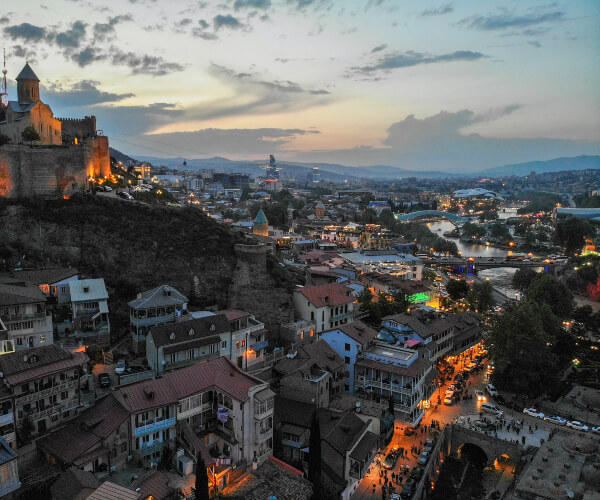 Georgia marks the crossroad between Europe and Asia and is home to the Caucasus Mountain villages and the Black Sea beaches. The country is famous for Vardzia, an intriguing cave monastery dating back to the 12th century.
The capital Tbilisi is the largest city in Georgia and since being founded in the 5th century it has been rebuilt 29 times. Parts of the capital have received a facelift with modern buildings, but the charm is still present. With the old town still largely intact with narrow alleys and crooked houses built around little courtyards.
Or if you're feeling more adventurous, take a hike up to the remarkable cave city of Vardzia. The 12th-century cave monastery grew into a holy city; home to over 400 rooms, 13 churches, and 25 wine cellars and more are still being discovered today.  The perfect adventure for history ridden tourists.
Slovenia really does have a lot to offer despite its small size, from soaring, snow-capped peaks of the Julian Alps and the underground fascination of the Postojna and Skocjan caves, to the glistening blue lakes and rivers.
The country presents itself as an outdoor, adventure style destination with tourists trying new activities and seasonal pro's returning year on year. With the most popular pursuits being skiing, walking, and hiking in the mountains. And the more niche activities including horse riding, ballooning, caving, and canyoning.
When people think of Slovenia, they automatically picture Lake Bled. The famous lake with the tiny ornate chapel on a small island with a medieval castle clinging to a rocky cliff. To this day Bled is still Slovenia's most popular resort and attracts anything from couples on their honeymoon to backpackers.
For the adventure seekers, why not embark on a ziplining adventure over the Dolinka River, Kayaking on Lake Bled itself or you could even have a taste of Whitewater Rafting on the Soca River. Slovenia will definitely not leave you stuck for choice.
Why Choose TopDog Insurance?
24/7 Emergency Helpline
100+Activities Covered FREE
Up to
£10m Medical Cover Per Person
Up to
£7,500 Cancellation Cover Per Person